Main content
Waste Reduction & Management Support for Businesses
Our outreach staff are available to consult with Addison County businesses and organizations about waste reduction and diversion, composting, hazardous waste disposal, compliance with Vermont's Universal Recycling Law, and more. All consultation services, including waste audits, are free of charge. Contact us to get started.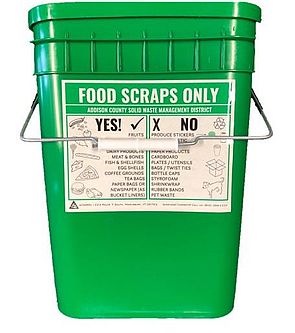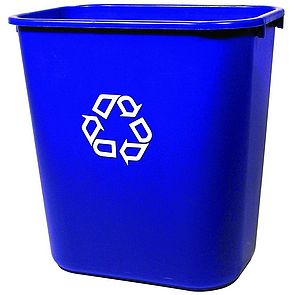 ACSWMD has desk-side recycling bins available for businesses. For businesses who set up a waste consultation with us, ACSWMD will provide two recycling bins free of charge. Otherwise, desk-side recycling bins are $5. We also supply kitchen collectors ($5) and 4- and 5-gallon buckets (free) to collect food scraps. These are perfect for your office kitchen or break room!
We also provide signs and stickers free of charge to clearly label your receptacles for trash, recycling, and food scraps.
Upcoming Workshop: Tackling Food Waste - Basics for Businesses
Does your organization have a plan for separating food waste from the trash? Starting July 1, 2020, all food scraps—in any amount—will be banned from the landfill in Vermont. Whether you're the office sustainability champion or you're totally daunted by the idea of collecting food scraps, this workshop is for you! In this session, you will learn about your organization's responsibilities and options under Vermont's Universal Recycling Law, get tips for greener waste strategies, and have your questions answered. Coffee and refreshments will be provided, and attendees will receive signs, stickers, and a free food scrap bucket!
Thursday, March 5, 2020, 8:00 to 9:30 am
Middlebury Regional EMS Training/Meeting Room
55 Collins Drive, Middlebury
(Views of ACSWMD do not necessarily reflect the views of the Middlebury Regional EMS.)