Main content
Waste Reduction & Management Support for Events
ACSWMD is here to help your event reduce waste and comply with Vermont's Universal Recycling Law. ACSWMD staff are available to train event staff in the basics of waste management, including what the event's responsibilities are, what can and can't be recycled and composted, how to help event goers and vendors properly sort waste materials, and how collected materials need to be handled or disposed of.
Vermont's Universal Recycling Law bans the mandatory recyclables (plastic containers, glass bottles, metal cans, paper, and cardboard) from the trash, so events of all kinds need to provide for recycling. Further, the law requires that any trash container in a public space must be accompanied by a recycling container. It is helpful to have clear signs next to every receptacle with examples of what is recyclable. Note that common single-use items such as plastic bags, coated paper products (paper cups and plates), plastic utensils, and containers with food or liquid in them are not recyclable.
ACSWMD provides portable x-frame recycling containers to events at no charge. Check out the containers we have available and submit a request for containers for your event.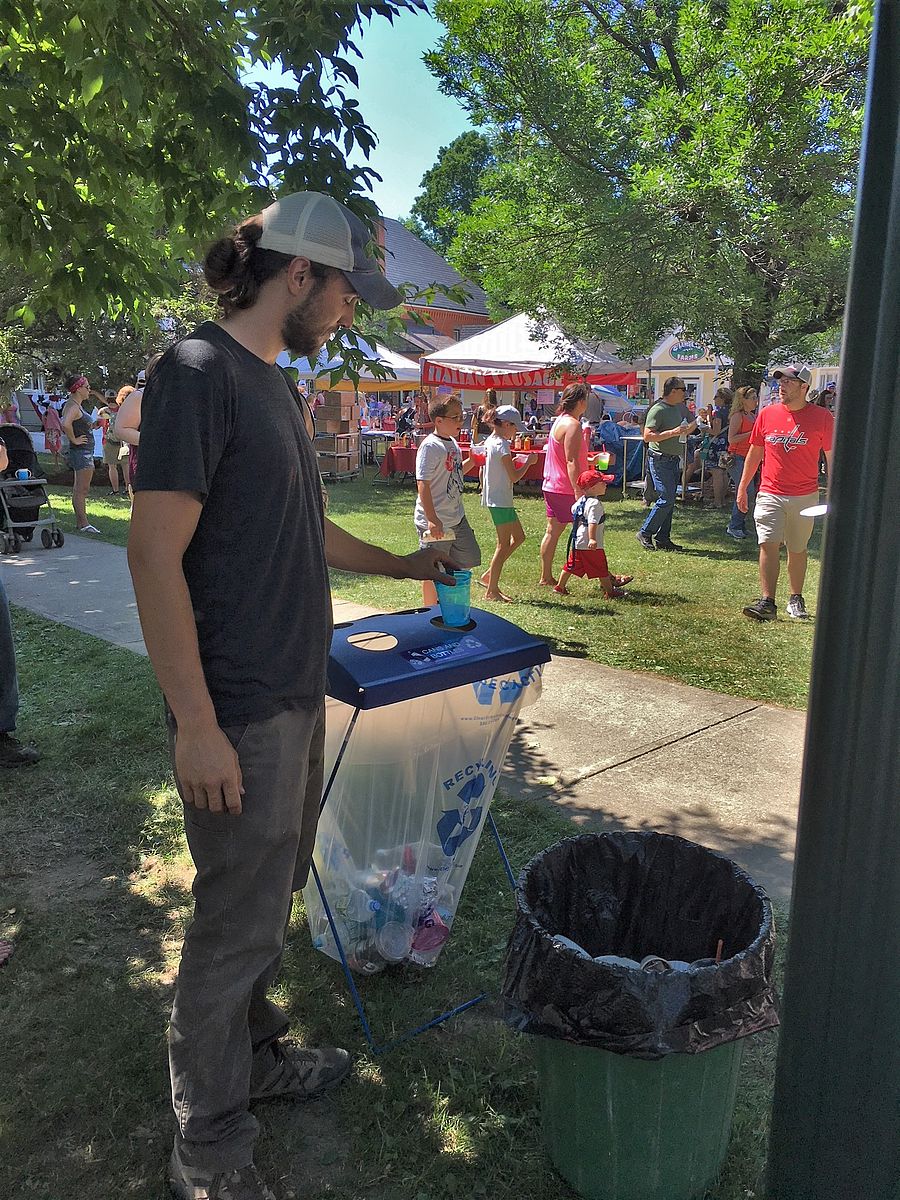 All food scraps will be banned from the landfill in Vermont starting in July 2020, so it's a great idea to start thinking about how your event will divert food scraps from the trash. Large quantities of all liquids, including used cooking oil, are already banned from the landfill, and options exist for recycling cooking oil. For smaller events, food scraps could be taken to your town drop-off. For larger events, find a hauler who provides collection of food scraps.
Make sure you know what is accepted for composting and what contaminants should be kept out. Please note that no compostable products, including paper napkins, compostable cups, dishware, and utensils are accepted for composting in Addison County. It is helpful to have signs with examples of acceptable items (either pictures or the real thing!) next to every collection container. If applicable, coordinate with food vendors or caterers about how serviceware and food scraps will be handled.
Consider using reusable food service ware instead of single-use items such as plastic cutlery, paper cups, straws, and paper plates, none of which are recyclable. The District is building a collection of reusable ceramic dishware, drinking glasses, and silverware to loan to events. Contact us if your event is interested in borrowing our dishware. Alternatively, the HOPE Resale Store in Middlebury sells dishware and utensils for cents apiece, or ask your guests to bring their own reusable dishware. Keep in mind that compostable products such as compostable napkins, plates, cups, and utensils are not accepted for composting in Addison County.