Main content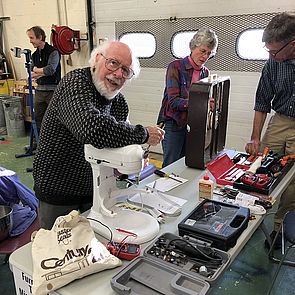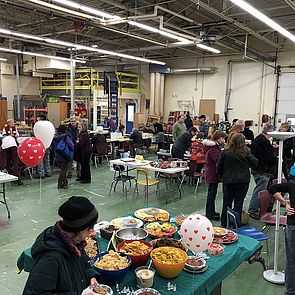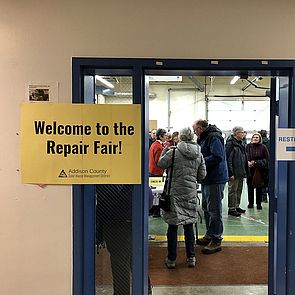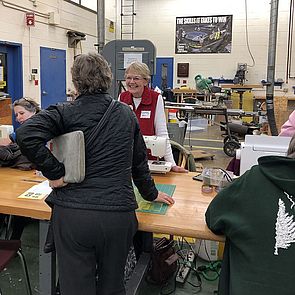 Next Repair Fair: February 25th, 2023
Give your clothes a second chance, and get them repaired! The Addison County Solid Waste Management District is hosting a new Clothing Repair Fair and Swap Shop in February. This will be a free event, where residents can learn basic mending skills, have small repairs made on their clothing, shoes, accessories, or jewelry, and build a culture of repair in Addison County.
When: Saturday, February 25th, 2023, 11 a.m. – 2 p.m.
Where: Bixby Memorial Free Library, 258 Main St, Vergennes, VT 05491
***In the event of inclimate weather, the rain date will be Saturday, March 11th, at the same location.
There are a few important things to know about participating in a Clothing Repair Fair/ Swap Shop:
Register in advance: Plan ahead for repairs and fill out the form below. If we can no longer make a specific repair, we will send an email letting you know.
Supplies: We will have a limited supply of tools and materials at the event. Your item is much more likely to be repaired if you bring your own materials (buttons, zippers, chain links, etc.).
Learn something: This event is about working together and sharing skills. We encourage you to watch or participate in the repair of your item. We will also have some mini workshops/ demonstrations for you to view while you wait!
No guarantees: We can't guarantee that your item will be fixed, and we're not liable for any loss that may result from work performed or instructions given. Fixers have the right to refuse any item. Fixers are not required to reassemble items that can't be repaired.
Number of items: We reserve the right to limit the number of items fixed per participant or ask that you join the end of the queue for each subsequent item. Items for the Swap Shop are capped at 5 items per person.
Bring appropriate items to swap: When bringing clothes or accessories to the Swap Shop make sure that they are clean and in usable condition. No shoes, swimwear, or undergarments will be accepted. Unacceptable items may be refused and handed back. All Donations to the Swap Shop are final.
Be patient: Wait times can be extensive at this popular event. Please be prepared to wait for your item to be seen. Refreshments will be available while you're waiting.
View our House Rules (PDF, call 802-388-2333 if you cannot see the PDF for a staff member to read it). Anyone who brings items for repair will be required to sign the House Rules form to indicate your agreement with our policies.
Addison County Solid Waste Management District is seeking volunteers for our first Textile Repair Fair! We do not need any additional fixers at this time, but please see below for available volunteer positions. We will need plenty of people to set up, check in visitors, and manage the swap shop. Sign up using the form below!
History of the Repair Fair
ACSWMD's Repair Fair is based on the idea of a "Repair Café," which originated in Amsterdam in 2009 by a sustainability advocate named Martine Postma. After the successful implementation of several Repair Cafés in her area, Postma founded the Repair Café Foundation in 2010, to spread the idea and share resources throughout the globe. Since then, over 30 countries have joined the movement and over 1,400 Repair Cafés have been established.
The three fundamental objectives of the Repair Café Foundation are:
To promote the lost art of repair in modern communities
To learn and teach repair skills and information
To cultivate social cohesion by gathering a diverse group of community members and encouraging them to work together to meet each other's needs
ACSWMD's first repair event was held in June 2018 at Middlebury Union High School. The second Repair Fair organized by ACSWMD was held on February 2019 at the Hannaford Career Center in Middlebury. The most recent Repair Fair occurred in March 2022 at the Hannaford Career Center's Makery.
The ACSWMD Clothing Repair Fair and Swap Shop on February 25th, 2023, is being held in partnership with the Bixby Memorial Free Library.
ACSWMD is excited to continue this popular program in the future. Contact us if you are interested in partnering with us to plan the next event.