Main content
Business Food Scrap Diversion
In Addison County, businesses and schools can have food scraps picked up by a licensed hauler or bring them to the District Transfer Station. All food scraps, regardless of amount, are banned from the trash.
We can provide Addison County businesses with technical assistance to get started diverting food scraps from the landfill, including performing waste audits, providing food scrap collection containers, and recommending options for food donation and food scrap collection. Call us at (802) 388-2333 or email emily@ acswmd.org for a free consultation!
Tips for diverting food scraps
Keeping food scraps out of the trash is great for our communities and can quickly become second nature. Try these tips to make separating food scraps a breeze:
Keep out contaminants such as packaging, silverware, twist ties, PLU stickers, and plastic to avoid loads of food scraps being rejected.
Cover food scraps with a layer of sawdust or other "browns" to prevent odors and flies.
Use BPI-certified compostable bags to line bins if desired.
Secure bins, manage odors, and use these other tips to keep bears from becoming a nuisance.
Collect food scraps in a dishwashable bucket.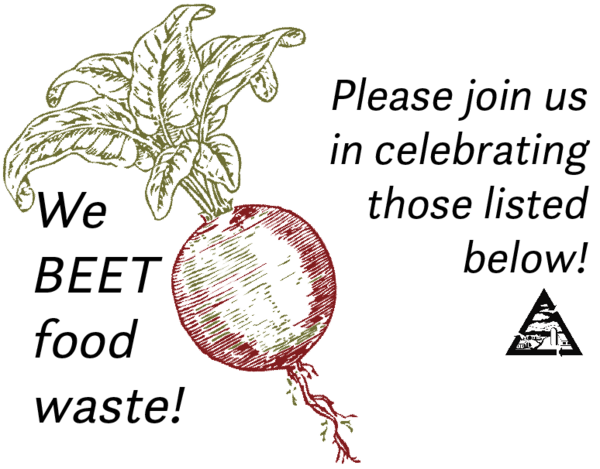 Businesses diverting food scraps
Below are the businesses in our District that are diverting their food scraps from the landfill. This list grows daily. Let us know if your business diverts food waste or if you would like a "We BEET food waste!" window decal for your business.
Whether donating quality food to pantries and soup kitchens, supplying food scraps to farms for animal feed, or sending scraps for local compost or energy, these businesses are great stewards of our community.
Agri-Mark Cabot
American Flatbread
Almost Home Market
Appalachian Gap Distillery
ARK Childcare
Aqua Vitea
The Arcadian
Basin Harbor Club
Bee's Wrap
BobCat Cafe and Brewery
The Bridge Restaurant
Briggs Trucking
Bristol Cliff's Cafe
Bud's Beans
Burchfield Management
Buxton's Store
Camp Thorpe
Champlain Orchards
Chipman Inn
Common Ground Center
Cubber's Restaurant
Daily Chocolate
Drop-In Brewery
Eastview at Middlebury
Elderly Services
Ferrisburgh Short Stop
Green Mountain Beverage
Green Peppers Restaurant
Greg's Meat Market
Halfway House
Hannaford
Helen Porter Healthcare and Rehab Center
Hogback Mountain Brewing
HOPE
Lincoln Peak Winery
Little Tots Academy
Mary Johnson Child Center
Maplefields
McDonalds
Middlebury East Condo Association
Middlebury Eye Associates
Middlebury Jolley
Middlebury Natural Foods Co-op and Cafe
Middlebury Town Offices
Middlebury Wastewater Treatment Plant
Mister Ups
Morgan's Tavern at Middlebury Inn
National Bank of Middlebury
Noonie Deli
Otter Creek Brewery
Otter Creek Child Center
Otter Creek Deli and Bakery
Overbrook Condos
Point Counter Point
Porter Medical Center
The Residence at Otter Creek
RK Miles
Rice Chinese, Thai, Malaysia Restaurant
Rosie's Restaurant
Shafer's Deli
Shaw's (Bristol)
Shaw's (Middlebury)
Shaw's (Vergennes)
Shoreham Inn
Small City Market
Stan Burritt Plumbing & Heating
Stone City Properties
Stoneleaf Teahouse LLC
Storm Cafe
Strong House Inn
The Inn at Baldwin Creek & Mary's Restaurant
Tourterelle Resturant & Inn
UTC
Vergennes Residential Care
Vermont Coffee Company
Vermont Community Foundation
Vermont Cookie Love
Vermont Hard Cider
VFW Post 7823
Waybury Inn
Woodchuck Cider
Woodbrige Condo Assocation
Woodland Park Condo Association
Your Business Here