Main content
The growing product stewardship movement in the United States seeks to ensure that those who design, manufacture, sell, and use consumer products take responsibility for reducing negative impacts to the economy, environment, public health, and worker safety. These impacts can occur throughout the lifecycle of a product and its packaging, and are associated with energy and materials consumption; waste generation; toxic substances; greenhouse gases; and other air and water emissions.
In a product stewardship approach, manufacturers that design products and specify packaging have the greatest ability, and therefore greatest responsibility, to reduce these impacts by attempting to incorporate the full lifecycle costs into the cost of doing business. The terms product stewardship and extended producer responsibility (EPR) are often used differently by stakeholders involved in the product stewardship movement.
Product Stewardship
Product Stewardship is the act of minimizing health, safety, environmental and social impacts, and maximizing economic benefits of a product and its packaging throughout all lifecycle stages. The producer of the product has the greatest ability to minimize adverse impacts, but other stakeholders, such as suppliers, retailers, and consumers, also play a role. Stewardship can be either voluntary or required by law.
Extended Producer Responsibility
Extended Producer Responsibility (EPR) is a mandatory type of product stewardship that includes, at a minimum, the requirement that the producer's responsibility for their product extends to post-consumer management of that product and its packaging. There are two related features of EPR policy: (1) shifting financial and management responsibility, with government oversight, upstream to the producer and away from the public sector; and (2) providing incentives to producers to incorporate environmental considerations into the design of their products and packaging.
The Vermont Product Stewardship Council (VTPSC)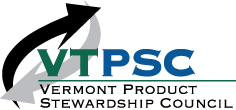 The Vermont Product Stewardship Council (VTPSC) was formed in 2008 to shift Vermont's waste management away from a government funded and ratepayer financed system to a system that incorporates producer responsibility, reduction of public costs, improvements in product design, and environmental sustainability.
VTPSC's successes include the passage of five of the state's eight "extended producer responsibility" (EPR) laws, including those for primary batteries, electronics, paint, mercury lamps, and thermostats. Vermont leads the nation in per capita collection rates for many of these products, recycling or safely disposing of millions of pounds of material and creating recycling jobs throughout the state and the northeast. This year, the group is turning its attention to household hazardous waste and packaging.