Main content
Food scrap collection & drop-off
Here in Addison County, residents and businesses have a number of options for diverting food scraps—things like veggie peels, coffee grounds, egg shells, and bones—from the landfill. While composting at home can be fun and rewarding, it's not an option for everyone. Fortunately, the District Transfer Station and all town drop-offs in the District accept food scraps for composting! Some haulers even collect food scraps at the curb. Food scraps collected at town drop-offs and the District Transfer Station are composted at Vermont Natural Ag Products' composting facility in Middlebury. Check out our printable guide to food scrap collection (PDF) in Addison County.
Why keep food scraps out of the trash?
You paid for those banana peels, egg shells, and carrot tops, so why pay to throw them away? Keeping food scraps out of the landfill makes sense for many reasons, whether it's saving money on your trash disposal and grocery bill, reducing methane emissions from the landfill, producing nutrient-rich soil amendments for our depleted soils, or conserving water and landfill space. Plus, it's the law: in 2020, all food scraps will be banned from the landfill in Vermont thanks to Act 148, Vermont's Universal Recycling Law.
The following food items are accepted at the District Transfer Station and all town drop-offs that accept food scraps:
Fruit and vegetable scraps
Coffee grounds and filters
Tea bags (paper only) & loose tea
Eggs and egg shells
Bread pasta, rice and grains
Meat, bones, shellfish and seafood*
Cheese and dairy*
Soups and sauces*
Oils and fats*
*While starred items should not be included in your home compost pile (they attract critters), they are OK to bring to drop-off locations because Vermont Natural Ag Products uses a hot composting method that breaks down these materials more quickly than they would in a backyard compost pile.
Contact us to get the sticker shown below for your food scrap container that lists what is and is not accepted for composting drop-off.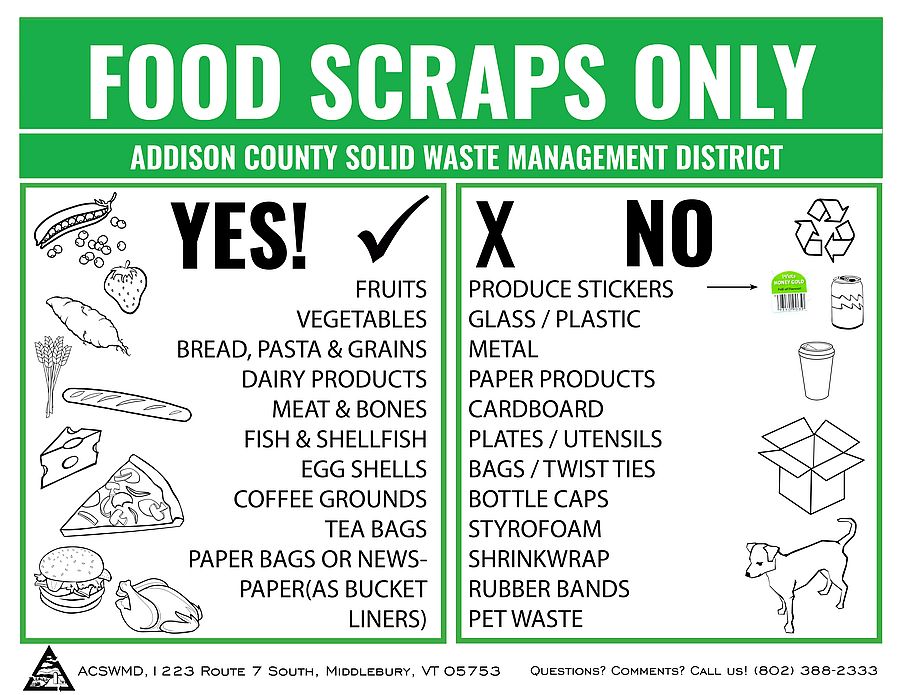 These items are NOT accepted at drop-off locations because they contaminate the compost system:
Plastic products of any kind
Paper products (other than coffee filters, tea bags, & brown paper bags or newspaper as bin liners)
"Compostable" products such as plates and utensils (except certified BPI bag liners, which MUST have the symbol shown to the right!)
Twist ties
Human or pet waste
Remember to remove produce stickers from fruit and veggie scraps that you drop off for composting. Produce stickers don't break down even in an industrial compost system, and they can't be removed from the final product. Try collecting your stickers on our printable produce sticker tool to prevent contamination!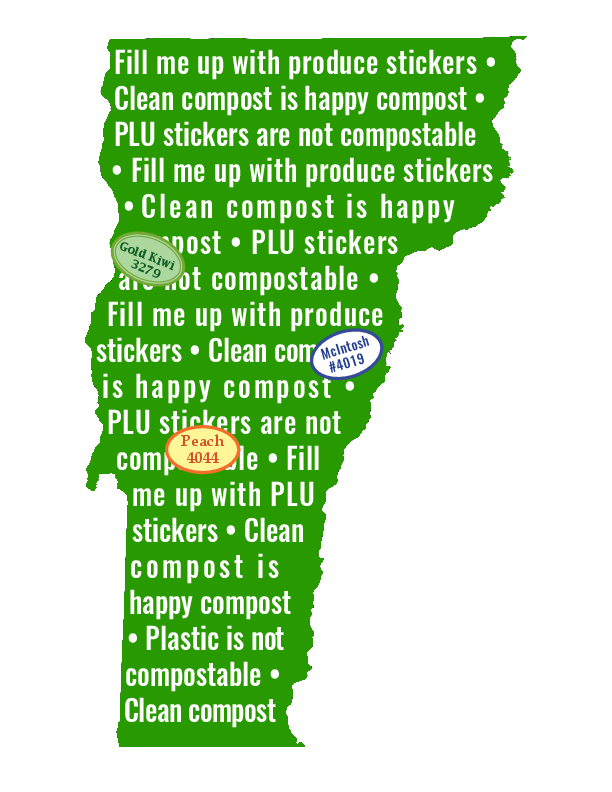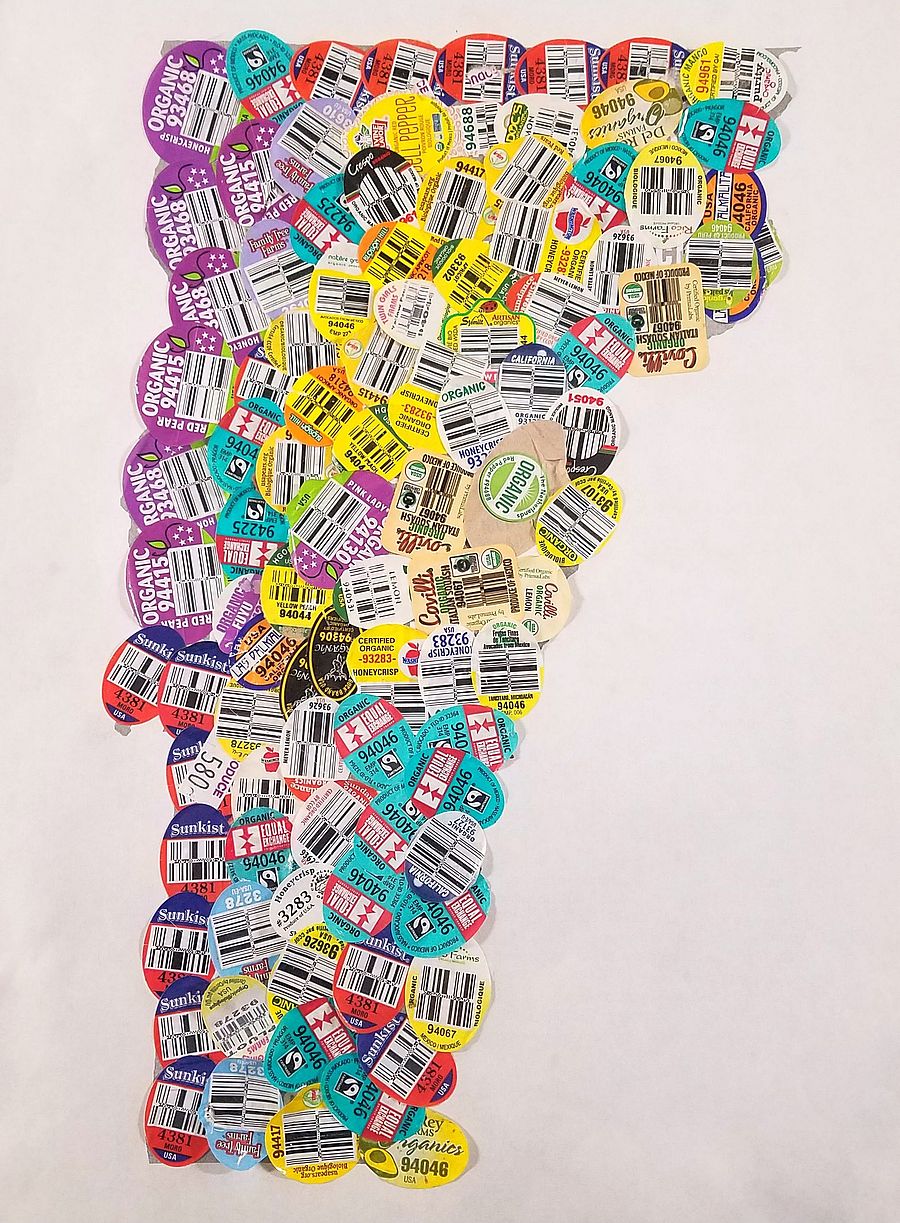 Tips for collecting food scraps
Collecting food scraps is easy, and can save you money by reducing your amount of trash. Check out these tips to make collecting food scraps a breeze!
Line your container for easy cleaning. Line your kitchen collector or bucket with newspaper, brown paper bags, or BPI-certified compostable liners to make emptying and cleaning your container easy. BPI-certfied liners must have the "certified compostable" label shown above. Learn how to fold a liner out of newspaper to fit your kitchen collector.
Prevent fruit flies and odors. If you notice fruit flies or odors near your food scrap container, either store the container in your fridge or freezer, or cover fresh food scraps with sawdust or wood shavings. If necessary, make a fruit fly trap by mixing apple cider vinegar and a dash of dish soap in a cup. Optionally, cover the cup with plastic wrap secured with a rubber band, and poke some small holes in the plastic wrap.