Main content
The second Repair Fair organized by ACSWMD was held on February 14, 2019 at the Hannaford Career Center in Middlebury. We had over 85 attendees bring more than 90 items for repair. The most common things folks brought in were clothing, appliances, electronics, jewelry, and furniture. Thanks to our volunteer fixers, about 60% of the items were successfully repaired and kept out of the landfill!
ACSWMD is excited to continue this popular program in the future, but we do not have a next event planned at this time. If you are interested in partnering with us to plan the next event, email our 2018-19 ECO AmeriCorps member, Ollie Cultrara, at ollie@ acswmd.org.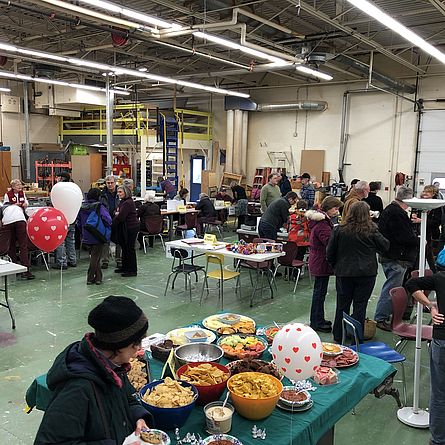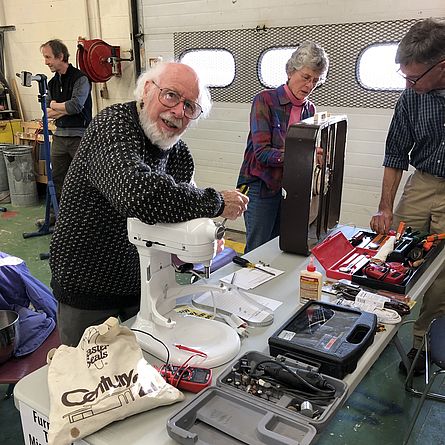 What is the Repair Fair?
The Repair Fair is a free, family-friendly community event that is made possible by volunteer fixers contributing their time and talents to help out their neighbors. Our fixers will do their best to fix your item on the spot or point you in the right direction if your item can't get fixed then and there. We can't guarantee that everything will get repaired – but we will certainly try!
At the Repair Fair, you'll find tools, materials, and repair experts to help you fix your items. You'll also find refreshments, kids' activities, awesome raffle prizes (see below), and lots of friendly faces!
ACSWMD's Repair Fair is based on the idea of a "Repair Café," which originated in Amsterdam in 2009 by a sustainability advocate named Martine Postma. After the successful implementation of several Repair Cafés in her area, Postma founded the Repair Café Foundation in 2010, to spread the idea and share resources throughout the globe. Since then, over 30 countries have joined the movement and over 1,400 Repair Cafés have been established.
The three fundamental objectives of the Repair Café Foundation are:
To promote the lost art of repair in modern communities
To learn and teach repair skills and information
To cultivate social cohesion by gathering a diverse group of community members and encouraging them to work together to meet each other's needs
What to Bring
The types of items that can be repaired at the event depend on the skills of the fixers who volunteer. Our current list* of fixers are skilled in:
Sewing & mending
Zipper repair
Jewelry (including making pendants out of lone earrings)
Eyeglasses
Furniture / Woodworking
Bicycles
Small appliances (such as lamps, fans, electric kettles)
Household electronics
Vintage sewing machines
iPhones (Screen, charging port, battery, speaker, frame, and camera replacements for models 5 through X. Attendees must supply their own replacement iPhone parts. Please call us at 388-2333 for more information.)
*This list is subject to change. Please give us a call at 388-2333 if you are unsure if your item is something our fixers can fix. If you have a skill you'd like to contribute, please contact Ollie Cultrara at ollie@ acswmd.org or 388-2333 to volunteer as a fixer.
You are encouraged to bring replacement parts or materials if you know or can find out ahead of time what is wrong with your item -- this will make it much more likely that your item can be repaired during the event.
If you have an item that is too large to bring, feel free to bring pictures and a description of what is wrong with the item. Consult with our volunteers and ask for their advice on how you can complete the repair at home.
We reserve the right to limit the number of items fixed per participant to one. You are allowed to bring more than one item, but if it is very busy, we may have to turn your second item away. If we do not limit the number of items, we ask that you are courteous to your neighbors and join the end of the line for each successive item.
Supplies
We will have a limited supply of tools and materials at the event. Be advised that you may need to purchase parts and/or tools separately if the item cannot be fixed with our supplied materials. Ask fixers for advice on what and where to buy materials, if needed. You are encouraged to bring replacement parts or materials if you know or can find out ahead of time what is wrong with your item -- this will make it much more likely that your item can be repaired during the event.
Participation
This event is about working together, spreading knowledge, and teaching skills. As you are able, we encourage you to pay attention and actively participate in the repair being administered to your item. Our hope is that, after the event, participants will be more inclined to attempt repairs themselves, or seek out other repair options instead of resorting to landfilling broken items and buying new.
Even if you don't have broken items to bring, you are still invited to come, enjoy a snack, watch the repairs, and mingle with fellow community members.
If Your Item Can't Be Fixed…
There are limits to what we can fix at the Repair Fair. Because the fixers are volunteers and all the repairs are being performed for free, there are no guarantees. Participants bring items at their own risk. The organizers and fixers are not liable for any loss that may result from advice or instructions concerning repairs, for the loss of items handed over for repairs, for indirect or consequential loss, or for any other kind of loss resulting from work performed. Fixers have the right to refuse to repair certain items at their discretion, particularly appliances over 25 years old.
For repairs that are deemed out of the scope of this event, or if there is not enough time to complete a repair, we will have a homework sheet available to bring home the fixer's recommendations. Participants are invited to ask the volunteers questions about next steps, and their advice about professional repairs, if applicable.
Fixers are not obligated to reassemble disassembled appliances that cannot be repaired. If you bring an item that cannot be repaired, you are responsible for proper disposal of the item. Ask ACSWMD staff members at the event for advice on recycling and/or disposal if needed.
House Rules
View our House Rules. Upon arrival at the event, you will be asked to sign the House Rules form to indicate your agreement with our policies. Anyone who brings items for repair will be required to sign the form.
Enjoy Yourself!
The organizers and volunteers are working hard to make this a successful and enjoyable event for our residents. Thank you so much for your interest in participating; we hope you have fun!
Spread the Word
Excited about the Repair Fair? Help us spread the word by posting and sharing our next event flyer, which is coming soon!
Raffle Prizes
Raffle prizes include a sampler gift box from Vermont Coffee Company ($29 value!), a sampler of Beeswrap food wrap, a SoilSaver compost bin and kitchen collector, and gift cards to Middlebury Natural Foods Coop, Shafer's Market & Deli, Middlebury Sweets, and Black Sheep Bistro. Thank you to Vermont Coffee Company, Beeswrap, Middlebury Natural Foods Coop, Shafer's Market & Deli, and Middlebury Sweets for sponsoring our raffle.
Questions? Want to volunteer at this event? Contact Ollie Cultrara at ollie@ acswmd.org or 802-388-2333.